"Tabagan" Ski resort, sport and entertainment complex


Location: Almaty Region, Talgar District, Beskayinar village, 23 km from Almaty
Description: Ski resort "Tabagan" is located on the territory of Talgar district of Almaty region, near the National Nature Reserve. During the summer, "Tabagan" provides all conditions for the development of mountain tourism, skiing on the quad bikes and mountain biking, family recreation resort type of mass cultural and sports activities outdoors.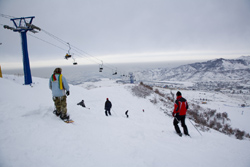 The distance from the border of Almaty is 17 km. Area is 55 hectares. The highest point of the slope located at elevation  of 1,650 meters above sea level.
Name of the complex comes from the English word "toboggan". "Tabagan" sport complex  is divided into two terraces: the upper and lower, which connects the wide asphalted road. For the convenience of visitors between the terraces were laid two staircases. In "Tabagan" afforded a high level of service and a wide range of  services.
On the campus operates a gift shop where you can buy a souvenir little "Tabaganchik" – it is a good orange creature, the keeper of these places and the invisible master of the resort.
Sports and Entertainment Complex ski resort Tabagan was built in 2005, in the valley Shybynsay (Zailyiski Alatau) near the village of Beskayinar. Implementing such a large-scale project was a new milestone in the history of Kazakhstan's tourism market, as well as winter sports.
Complex "Tabagan" was built in accordance with the modern world standards to the ski resorts of such class. The complex is equipped with equipment manufactured in Austria, Holland and Russia. Installation of cable car and a card access system implemented by Russia specialists, other work has been done by local companies. The official presentation was in January 2006. A few days later, here was first played Federal Cup of snowboarding and extreme sports of Almaty. In April 2006 it hosted the Eurasian Media Forum, headed by Dariga Nazarbayeva, with repre-sentatives of major domestic and foreign media
Restaurant "Tabalandiya"

is located on the upper terrace and seats up to 200 seats. In addition, during the warm season operates a summer ground for 60 seats. Interior design recalls the Gothic style; here you can feel Victorian spirit when knights fought for the beautiful ladies. From the second floor you can see a spectacular views of the mountains. In a restaurant equipped with a dance floor, disco acts. The restaurant presents European cuisine. By the way, on the second floor there are all the conditions for small conferences, seminars or trainings.

Restaurant "Tabakerka" (Snuff-box)

is located on the lower terrace of "Tabagan" and is designed for 80 seats, has a summer terrace with 150 seats. Menu of the restaurant includes the Mexican and national Kazakh cuisine. Design of the restaurant is made in country style. Cozy atmosphere, nice quiet music will not leave anyone indifferent. The peculiarity of "Tabakerka" that in the center of the hall there is a large circular fireplace. It is arranged in such a way that you can sit near the fire with your lover or friends. In addition, there are separate cabins and a platform for speeches.

"Taperias"

is a small restaurant with Spanish cuisine. There are 2 rooms to choose from. Summer room is overview and has 60 seats. The restaurant has room for non-smokers, which can accommodate 24 guests. If you wish to rest and relax in a cozy atmosphere there is VIP-room for 6 people, where you can order a hookah. A restaurant is also not leave unattended children and give them a children's menu.
In "Tabagan" even the most demanding and sophisticated rest-lovers will find something to do for the soul:
*   Summer Riding on the "Grassy" Hill
*    Horse Riding
*   Mountain Skiing
*    Snowboarding
*   Snowmobile Riding
*    Quadrocycle Riding
*    Mountain Bike Riding
*    Para-glider Flight
*   Paintball
*   Strike-ball
*    Team-building: Conduction of the Corporate Arrangements
*  Trainings and Conferences Conducting Летнее катание на «травяной» горке
«Berezovaya»
2 cottages are situated on the territory of Berezovaya village. They look rather simple but inside they contain accurate and cozy rooms. Each cottage has 8 rooms for two persons and 2 rooms for one person. All the rooms are with a shower and lavatory, the city telephone, satellite TV and a fridge are also here. These cottages are suitable for young people as the prices here are rather democratic with a high service and wonderful conditions for full civilized rest.

«Sosnovaya»
Village Sosnovaya contains of 3 cottages of the higher class. One compact cottage contains 1 room for four of the VIP class. This is an ideal place for newly wedded, family couples or companies of close friends. The fireplace hall is situated in the first floor, it is faced with masonry, in Middle-Age style. In the evening you can kindle the fire in the fireplace, comfort and positive energy is guaranteed to you. For your entertainment here is a TV set with karaoke and a mini system. The second part of the first floor contains a kitchen, bar and equipped dining-room. The second floor contains two wonderful bed-rooms also with TV sets; they are supplied with separate lavatories. All the second floor rooms have balconies, where you can see fantastic view of Zailyiski Alatau.


«Klenovaya»
In light spacious rooms you will get up because of birds merry twittering, tender touches of the first sun beams and fresh wind, which brings heady needles aroma. 3 beautiful two-storied cottages are situated in the territory of Klenovaya. Each has 4 rooms for two persons. The cottage of Klenovaya village is a perfect choice for romantic rest. Elegant European style, cozy rooms, interior in minimalism style, TV set, satellite TV, telephone with access to the city. The second floor contains rooms with balcony and view of blue mountains and the resort territory.

«Yelovaya»
Yelovaya village is situated at the lower ter-race of Tabagan. It includes four cottages. Each has four comfortable rooms for two. Everything here is made with great love. In this atmosphere you would like to stay forever. A spacious sitting –room with comfortable soft furniture, a bedroom with a big bed, warm tones of the stylish of blinds and carpet allow having wonderful rest.


«Sirenevaya»
Sirenevaya is the most romantic from the presented villages in Tabagan; it is situated at the lower terrace. It includes three cottages-chalets with a convenient sitting-room and a bed-room in the second floor. A cozy bath-house with firewood, which is situated in the territory of the village, will impress guests. This place is especially beautiful in spring, when the lilac is in bloom. You can see a beautiful view out of every window.

«Ryabinovaya»
Ryabinovaya village includes a three-storied hotel with rooms for one and for two, and Tatami. The hotel's service level may rank four-star hotel. The bed linen is changed in rooms, and rooms are cleaned every day, everything necessary is available. In the first floor 19 comfortable rooms are situated: 9 rooms for two and 1 room for one without a balcony. In the second floor 12 rooms for two are situated and 1 room for two with balconies. In the third floor 12 rooms for two and q room for one are situated. The design is the Eastern style. In rooms there are double bed tatami. From the balcony you can see the wonderful view of mountains. 2 phyto-saunas, large and small, are situated in the hotel. Both of them work by principle of Finn sauna. Water tanks in saunas are made of the natural oak.


«Villa»
Cottages has two levels, very spacious interior room with comfortable upholstered furniture, bedroom with queen size bed, warm colors of curtains and carpets have a cozy and comfortable rest. And also there is a dignity unit with daylight and shower, fireplace, 2 LCD televisions, kitchen office tied to the living room.
«Berezovaya» village – single room – from 30 to 70 $ per room
double room – from 37 to 110 $ per room
«Klenovaya» village – double room – from 65 to 140 $  per room
«Sosnovaya» village VIP – Quadruple room – from 290to 590 $  per room
«Villa» – Quadruple room – from 450 to 890 $  per room
Lower terrace
«Yelovaya» village – double room – from 65  to140 $  per room
«Sirenevaya» village – double room – from 107  to 192 $  per room
The price includes: breakfast