Ak-Bulak High-mountains Resort
Location: Almaty District, Talgar Region, Soldatskoe Gorge
Description: The high-mountains resort "Ak-Bulak" is enchanting natural scenery, luxury vacation, a unique cableway, ski slopes and snowboard routes in 35 km from Almaty. In the highland resort of "Ak-Bulak" you have the opportunity to combine an exclusive and comfortable holiday, corporate seminars and business meetings with your business partners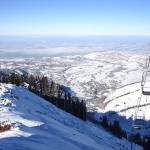 A distinctive feature of the resort "Ak-Bulak" is the existence of its own ski area. Steep hills of Talgar mountains and has no analogues in Kazakhstan mining hoist equipment company «Leitner» waiting just for you.
Ski slopes and snowboard routes of "Ak-Bulak"- is a  real freedom for extreme! Length of the route is 5 000 meters with a maximum slope angle of 55 degrees.
After repeated descents from the snow-capped peaks you can take the hot air and cool water of sauna or restorative massage. In the well-equipped phytobar hotel, you can strengthen your health with oxygen cocktails prepared at the mountain herbs gathered at the foot of Soldatskoe Gorge.
Health Club – Pool is a system of ozonation and purification, 2 saunas, phyto bar, where we can offer oxygen cocktails, gym, 2 tennis courts, a massage service.
Entertainment and Leisure: billiards (5 tables), bowling (2 lanes), disco, bars, karaoke.
Laundry and ironing. Hotel Doctor proposed basic health services. Transfer, rent a bus.
On the territory of the ski resort of "Ak-Bulak" there is a hotel with the same name, which is represented by: 11 Suites, 4 Junior Suites and 48 Standard rooms.
Rooms description:
Mini bar,
телефоном с выходом на городскую и междугороднюю, международную линии,
Cable TV,
DVD,
Individually Controlled Air Conditioning,
Bathrobe,
Hairdryer,
In room Safe.
Restaurant "Ak-Bulak".
Breakfasts: breakfast "in Kazakh", "As Europeans", "English breakfast", "Slavic breakfast", "country style" and etc., sandwiches, croissants and pastries in the range, coffee, tea.
Lunch can be done as for your guests or employees in the form of a large buffet table or dinner table.
Cafe-bar works from 14.00 to 07.00 hours
The menu of bar consists of 15 kinds of coffee, hot chocolate, alcohol and soft drinks, snacks.
Phyto-Bar works from 09.00 to 21.00 hours
The menu of phyto-bar consists of different phyto-teas, fruit ice, fresh, oxygen cocktails and energy drinks.
Bar and swimming pool works round the clock.
Menu includes the whole range of drinks bar of the "Ak-Bulak" restaurant.
Dinner or a corporate banquet. You will be offered an exclusive menu for the banquet, as well as a wide assortment of elite whiskey and cognac, wine and beer, juices and soft drinks.
For special celebrations lobby and restaurant room will be decorated with garlands and balloons, can be organized concert program with the stars of Kazakh and foreign music, and exotic shows.
| | |
| --- | --- |
| Room type | Price per room |
| Standart double | 220 $ |
| Suite | 275 $ |
| Suite (second buildings ) | 175 $ |
| Standart for 2,3,4  persons (toulet & shower is on the floor) | 65 $ per person |
The price includes – Ful board meal,  visiting Swimming pool, gim.